Pocket Informant PRO

A fully integrated iOS-based Event,Task,Note, and Contact solution, universal for both the iPad and iPhone, Pocket Informant Pro lets you focus on everything you do in a day – not just your Tasks list.
With this highly customizable tool, you have the power to change virtually every feature to suit your preferences. The addition of a full-featured Notes tab, and complete Contact management eliminate the need to ever look elsewhere for your organizational purposes.
Get my PI $14.99 Quick Start Guide
Complete Mobile Organization
Replacing the need for the old style paper planners, or your kitchen wall calendar, Pocket Informant Pro offers at-a-glance organization. With the available customization choices, you can set your information to show as much or as little as you wish. This calendar is a must-have tool for everyone. Form the person who just needs a little organizational help, to the power user, everyone can be a 
Productivity Ninja
 with Pocket Informant Pro!
Features Include:
Tasks fully integrated into calendar views

Add Events easily with just a few taps of a button
Create custom calendars to aid in your personal organization
Month, Week, Day, Today and List (Agenda) views. Each view is customizable to your specifications
Swipe between days, weeks and months
Swipe-to-Action allows you to swipe any event and choose to email, change the start/end date, add a comment or delete
Location mapping. Supports multiple location mapping
Alarms for events
Recurrences
Attach photos or contacts to Events
Highly configurable tab bar allows you to choose which features are on your home page, and easily swipe between feature tabs
Themes allow for further customization of your Pocket Informant Pro
What's NEW!
NEW "CLEAR" INTERFACE – a brand new re-designed interface that is beautiful, elegant and easy to use

NATURAL LANGUAGE EVENT CREATION – Enter phrases like "Coffee with Mom every Tuesday at 6am" and Pocket Informant will understand and set your event accordingly.
TODAY VIEW now shows Tomorrow, plus is fully customizable with Smart Filters and More!
CURRENT FEATURES MADE EVEN BETTER!
VIEWS – Today, List (Agenda), Daily, Weekly, Monthly, Task, Notes, Contacts views

INTEGRATED – Show events and tasks together, either what's "in progress" or just what's due
EVENT LOCATION MAPS – Tap a button and show today's events mapped out for you, tap on the event and get directions (integrates with Google Maps, iOS Maps and Navigon)
RECURRENCES – Supports simple (every day/week/month/year) or complex (e.g. 4th Friday of every other month)
CUSTOMIZABLE – We give you the options you need to customize the way Informant works as well as how it looks. ISO week numbers, event and task defaults, month & week view layouts – all at your command.
COLORS/ICONS – Use Calendar or Tag coloring to visually make your organized calendar or task list more readable
UNIVERSAL – Runs on all of your iOS devices with one purchase! Other apps cost more than twice as much and have separate versions for iPhone and iPad!
Pocket Informant Pro is a powerful task management tool, with many options available to fit the needs of every person. Tasks are completely viewable and editable in the Calendar views. Comprehensive collection of pre-made Task Groups, as well as the ability to create your own Smart Filters.
Features Include:
Choose from three different modes of task management to find the one that best suits you – Franklin Covey, Standard or Simple Tasks

User-defined Smart Filters allow you to create your own task groups with your own specific criteria
Sub-Task support to allow for detailed definition in your task management
Pre-made filters to quickly find tasks that are Active, In Progress, Due, Overdue, Undated, Completed and Completed Today
Assign a Tag to your task for easy sorting and search-ability
Create templates for frequently-occuring tasks
Assign a priority to your task to keep you on the path to getting things done
Completion Percentage Slider allows you to see at a glance how much of your project is completed, or how much remains to be finished
Assign actions to your tasks to keep you on track
Location-based alerts for tasks will send an audible alert when in the vicinity of your scheduled task. Supports multiple location alerts
Set an alarm – or more than one – for your task to remind you about completion
Icons
Photo and Contact linking
Swipe-to-Action allows you to simply swipe a task, and bring u pa list of actions – email, edit, delete, etc
What's NEW!
NATURAL LANGUAGE CREATION – Enter phrases like "Take out the trash every Friday at 6am" and Pocket Informant will understand and set your task accordingly!

PROJECTS can now have a due date, a default template, be set to automatically complete, use parallel/sequential/single-task "next" action modes, and more!
CHECKLISTS – Create checklists for your tasks that involve lists (like grocery shopping, packing, etc.)
TODAY VIEW is now fully customizable with Smart Filters and more!
PI ONLINE EMAIL TO TASK CONVERSION – Subscribers can now email Pocket Informant Online to automatically create tasks that sync down to Pocket Informant Pro!
Current Features Made Even Better!
INTEGRATED – Show events and tasks together, either what's "in progress" or just what's due

FILTER – Use Tags to filter your tasks
TEMPLATES – create templates to quickly generate tasks, even with sub-tasks
Pocket Informant Pro includes a complete Contacts Manager that fully accesses the Contacts database on your iPad or iPhone/iPod Touch
Pocket Informant Pro fully accesses the Contacts on your device, and allows you to edit, add and delete without ever leaving the app!
Make phone calls directly to your chosen Contact without ever leaving the app!
Turn your iPhone in landscape mode, and you now have a visually stunning display of all your Contacts with photos! This is available on the iPad by choosing the grouping option "pictures"
Swipe to Action allows you to swipe a Contact and choose to create an Event or Task based off of the Contact, email your Contact, or delete!
With the Notes feature in Pocket Informant Pro, not only can you record and store your voice and text notes, but you consort and filter them as well, to keep you organized!
Record Voice Notes for hands-free access
Text notes with un-limited character capabilities
Share your notes via email and sync
Pre-made Notes filters for easy search-ability
Swipe to Action allows you to swipe a NOte and choose to star, share via email, or delete
Sync your data for seamless access on the go!
Pocket Informant Pro syncs with five different sync services; simply choose the one that's best for you!
Auto-sync will sync your changes immediately up to the server, and new items from the server down every 45 minutes (while PI is running, or next time it is opened). You can also choose to customize your Sync times to whatever best fits your needs.
Pocket Informant Online Sync
This is our later addition to the Pocket Informant family. With Pocket Informant Online you can seamlessly sync all of your pocket Informant data to one service, that is completely "in-house". Pocket Informant Online is specially formulated to support every feature in our mobile applications.
Pocket Informant Online is the only sync service that is completely, feature-for-feature compatible with Pocket Informant Pro.
This is a subscription based service available for the introductory price of $15/year
Syncs Calendar Events, Tasks and Notes
Google Calendar
Sync multiple Google calendars to the same PI account
Syncs Google alarms
Syncs shared calendars
Supports meeting requests
Google Tasks
Supports Simple Task management
Sync multiple Google calendars to the same PI account
Toodledo
Syncs your Tasks
Does not require Toodledo Pro membership
Syncs Toodledo alarms (must be a Pro member to sync different alarm times)
Sync Contexts, Folders and Notes
Supports sub-tasks
iOS and Outlook Sync integrates systems you use everyday with your mobile device!
Native iOS Calendar Access
NEW! iOS Reminders Support!
Full access to your iOS Events
Requires iOS 4.0 and above
Calendar Events only; no Tasks
Windows Outlook Preferred Sync
Fieldstone Software's gSyncit is our preferred Outlook to Pocket Informant sync.
gSyncit is a Microsoft Outlook add-in that allows for the synchronization of calendars, contacts, notes, and tasks between Outlook and your Pocket Informant Online, Google and Toodledo accounts
Provides the best experience for syncing Outlook to Pocket Informant
| | Pocket Informant Pro | Pocket Informant Go! | Competition |
| --- | --- | --- | --- |
| Universal - ONE PRICE! | X | X | Costs extra in some cases |
| Today View | X | X | |
| Calendar: List View | X | | X |
| Calendar: Day View | X | | X |
| Calendar: Week View | X | X | X |
| Calendar: Month View | X | X | X |
| Tasks View | X | X | X |
| Notes View | X | | |
| Search View | X | | |
| Sync with Google Calendar | X | X | X |
| Sync with Google Tasks | X | X | |
| Sync with Toodledo | X | | X |
| Sync with Pocket Informant Online | X | X | |
| Simple Tasks | X | X | |
| Full Featured Tasks | X | | X |
| GTD Tasks | X | | X |
| Smart Task Filters | X | | |
| Full Featured PIM | X | | |
Pocket Informant is designed to look its best and work its best with the new Clear interface. We use a gorgeous font, color scheme, and feel to make your tasks and events pop out and be easy to read. However if you'd like to customize things we give you that option as well.
Choose from multiple themes including leather bound and simple flat colors. You can also switch back to the default iOS font if you'd prefer (sometimes easier on the more experienced eye). Finally we let you pick different colors for each of your calendars, tags, and a variety of states.
Productivity Ninja Book (by Matthew Brown)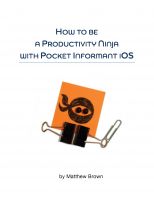 How do you stay on top of the demands of today's fast-moving world? With a philosophy, and a suite of tools: Productivity Ninja thinking, tied to the power of Pocket Informant, helps you manage a high work load, get stuff done and have no stress. Matthew Brown is a coach and productivity practitioner, who has worked with companies, schools and charities, delivering high productivity and low stress
This book is designed for people who need help with their stuff. When we talk about "stuff", we mean all the things that we have to deal with daily in this fast-moving world. Email, mobile communications, meetings, digital media. All of that.
It's not easy, but it is possible to manage a very high workload and multiple complex professional and personal commitments and to do so with no stress whatsoever.
To achieve this requires the skills of the Productivity Ninja, and the power of Pocket Informant.
This book tells you how to do it.   (iBook, Kindle, PDF, and more options) (not affiliated with WebIS, Inc. – link provided as a courtesy)
Buy Productivity Ninja for 99¢
Screenshots